Ordering
Configuration
Technically speaking, the SAMI engines are comparable to each other. Of course, if desired,
certain parts can be deviated from, as long as this does not interfere with the basic
engineering that we have configured. At SAMI, we will sit down with you to put together
your ideal motorcycle. You can choose from colour palettes that we have carefully selected
to make it a real eye-catcher, but if you have any specific wishes of your own when it comes
to colours, then we are definitely open to these. After the intake meeting, you will receive a
transparent offer for your unique SAMI motorcycle. We immediately get to work as soon as
the offer is approved and SAMI has received the order to build it.
Update process while it is being built
Just as it is a pleasure for us to build your bike, we want it to be a pleasure for you to pass the
time waiting for it. That's why we send you updates at crucial moments in the construction
process so that you can stay involved in the making of your SAMI. An if it gets too much for
you and you feel the urge to come and see for yourself how your new bike is progressing?
Just make an appointment and we will welcome you with open arms!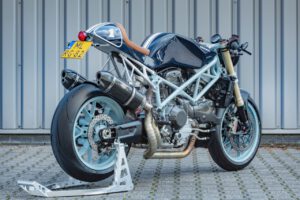 Pick-up time
Then the day has arrived when your SAMI is completely ready and waiting for you. The pick-
up time is also something we like to celebrate. Will you take your new pride and joy home
with you on a bike trailer… or will you ride it home yourself?